Our infrastructure - modular, simple and versatile.

Our proprietary hardware components allow you to customize your monitoring scope and define specific zone concepts. Our devices are strategically placed to provide the desired level of protection in your chosen areas.
​Our SmartLiberty solution's infrastructure is a patented in-house development, which gives us the flexibility to swiftly adapt to evolving market needs and introduce innovative features. We prioritize input from all parties involved, including operations, architects, and electrical planners, to ensure a comprehensive and well-rounded solution.
​To seamlessly integrate our infrastructure into your environment, it can be customized to match any RAL color, blending with your wall colors and decor. We maintain a commitment to simplicity in cabling, offering options like flush-mounted or surface-mounted cable routing without the need for additional drilling. Safety is a core consideration in every development phase.
​
​
Radio coverage – customized for your requirements

Radio coverage is guaranteed through the deployment of our RF readers strategically positioned to cover the entire designated area, ensuring that both residents and caregivers can trigger alarms at any given moment, thus promoting a sense of safety.
At SmartLiberty, we are eager to develop a tailored concept to suit your specific needs. During this process, we consider the site-specific conditions, taking into account factors such as building structure and wall properties that influence the coverage range, while also striving to minimize installation efforts.
Our readers offer bi-directional functionality, allowing them to receive alarms and send essential data packets to user interfaces, such as firmware updates and status messages. Emergency power supply is guaranteed through a UPS system designed for the specified duration.
Indoor and outdoor security - for your residents and staff

---
Security is essential in any nurse call system. SmartLiberty's RF readers are designed to safeguard both indoor and outdoor spaces, providing residents with freedom of movement and eliminating the institutional feel of wired nurse call systems. This added security also extends to nighttime shifts, where fewer staff members are on duty.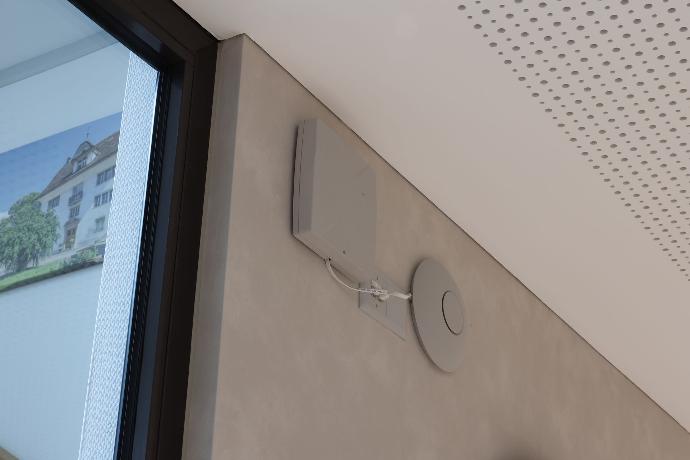 Localization - different concepts for different groups

What's the use of caregivers knowing that an alarm has been triggered if they're left in the dark about where their assistance is needed? To address this concern, the SmartLiberty solution employs location markers structured around zone concepts, offering an almost boundless range of possibilities. This encompasses pinpointing residents' positions within the building, down to specific floors and rooms, and tailoring the approach to suit different resident groups, such as those with dementia or residents in serviced apartments.
This flexibility proves invaluable, whether it's for safeguarding residents with a tendency to wander or providing real-time location updates for concerned family members. Additionally, during night shifts, this tracking system also plays a vital role in ensuring the safety of the staff, particularly when there are fewer team members available. In cases of emergency, team members can promptly identify a resident's location and rush to provide assistance, enhancing overall safety and peace of mind.
Wanderer management in outdoor areas - seamless security

---
SmartLiberty's mobile approach allows residents to move freely outdoors while providing reassurance to staff and family members. An induction loop extends the marker, triggering a wandering alarm if a resident crosses it without authorization.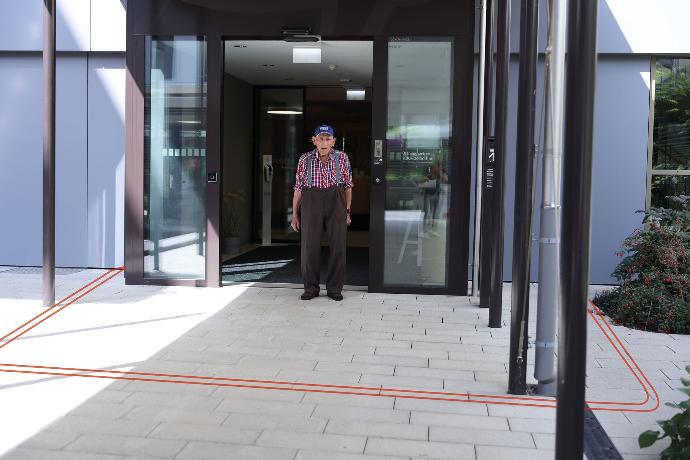 Radio coverage is guaranteed through the use of RF readers (indicated in blue) placed within the predefined call areas, as determined collaboratively. These RF readers establish direct communication with the server, which then relays any alarms.
In this scenario, the location markers (depicted in green) have been strategically positioned to allow for floor-specific localization. Nevertheless, the localization system can also be configured to enable room-specific tracking as needed.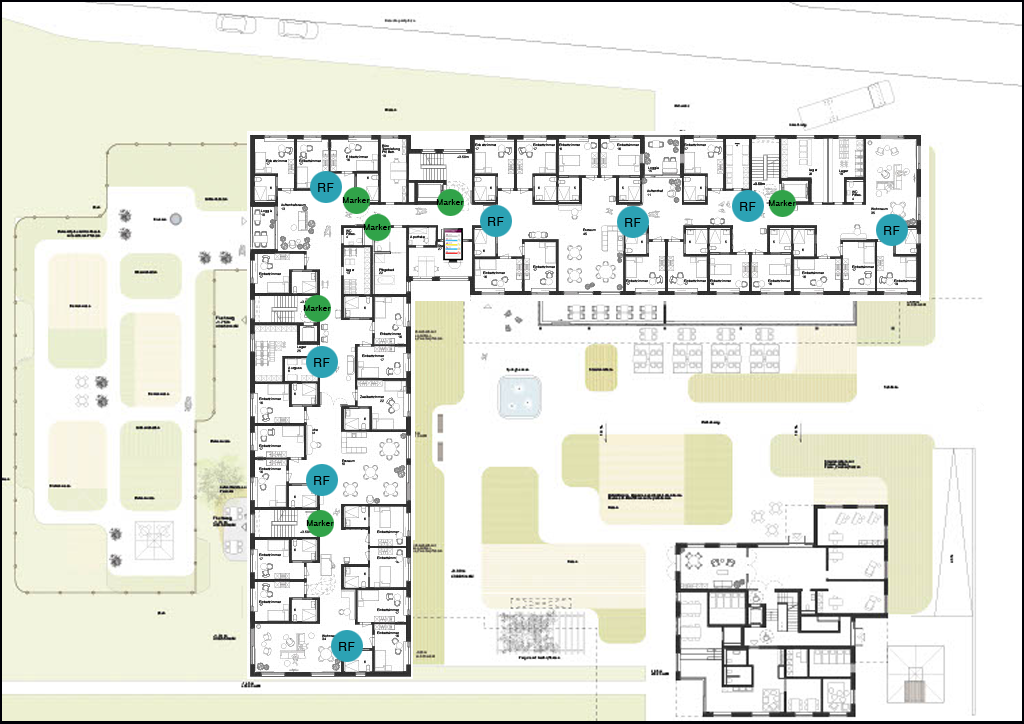 SmartLiberty embraces a digital and mobile approach, ensuring a cable-free and hazard-free environment within your building. The system's central component is the server, which can be installed either virtually or physically on your premises. Each element within the system is equipped with self-monitoring and redundancy features, proactively notifying both you and SmartLiberty's support team about potential issues. Additionally, every deployed element includes either an internal battery for emergency power or a separate UPS within a centralized or decentralized rack network.
To stay current with the digital age, SmartLiberty leverages the mobile network for telephony. Depending on the existing coverage within a building, in-house GSM antennas may be necessary to ensure consistent reception. Alarms are primarily transmitted via an area-wide WLAN network, if available, and as a backup, via the mobile network.
Utilizing an in-house GSM system offers several advantages over outdated DECT technology. It allows residents, employees, and visitors to seamlessly connect to their devices at any time, retaining their existing mobile subscriptions. Furthermore, the application can be accessed beyond the premises, enabling calls from anywhere in case of emergencies such as fire alarms or FGD alarms.
For easy identification of all deployed devices, each one is equipped with an NFC chip. This chip is readable by all deployed smartphones, simplifying the process of assigning devices to specific residents, staff, or visitors.
Schematic diagram of an installation
---
This schematic provides an overview of the SmartLiberty solution, showcasing that only a few components, such as the RF readers, the I/O modules and the alarm displays need network wiring, with most elements operating via battery or a 230VAC connection.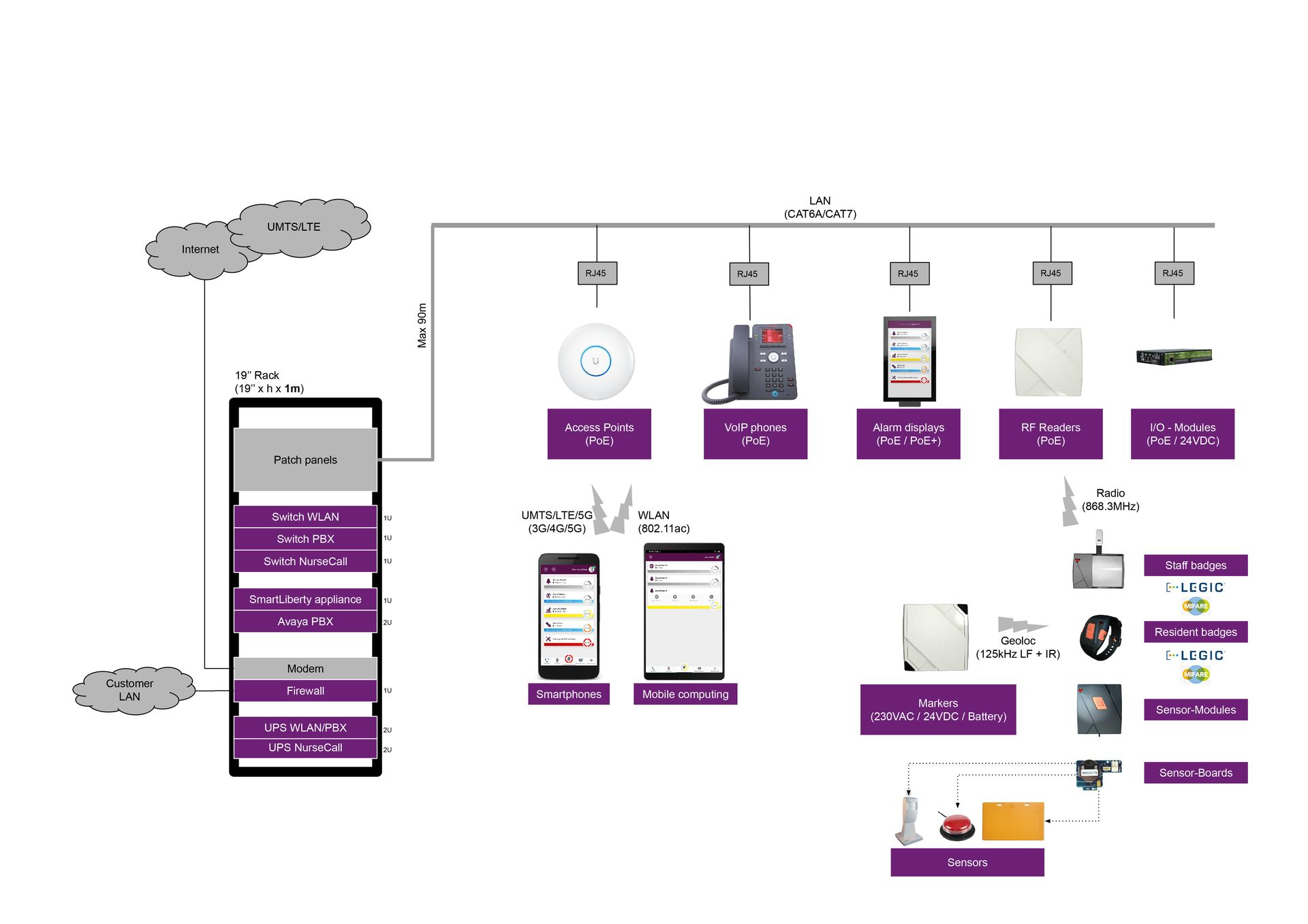 Provides secure living space for your residents indoors and outdoors
Allows for the triggering of a nurse call or alarm throughout your facility
Directly transmits alarms to the responsible caregivers' smartphones
Displays the alarm status to reassure the resident
Universally applicable for generating alarms with third-party systems (e.g., motion detectors, floor mats, bed sensors, etc.)
Enables the replacement of all previously wired components
Functions include cancelling alarms
Initiating assistance calls, and triggering aggression or reanimation alarms
Can also serve as a means of identification
Indicates the alarm status
Can function as a visitor badge with special capabilities
Serves as an interface for our motica apps for your nursing staff.
Handles alarm processing
Telephony
Offers a range of integrated tools
Facilitates the transfer of information
Resident Badge
---
The resident badge allows residents to initiate resident or service calls and triggers disorientation and wandering alarms. It provides immediate feedback on the alarm status through an integrated LED, offering reassurance.
Additionally, featuring tear-off detection and an optional safety lock, the resident badge is well-suited for individuals with progressive dementia.
It comes in various wearable options, including a belt clip, a neck strap with choke protection, or a disposable wristband.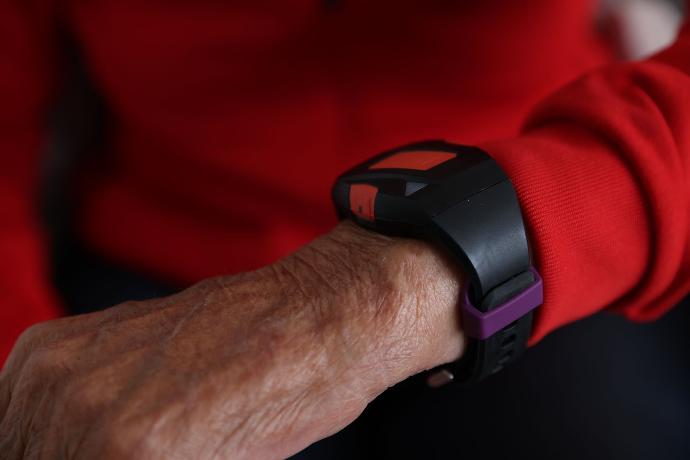 Staff badge

---
The staff badge serves multiple functions, including cancelling alarms, triggering assistance calls, and initiating aggression or reanimation alarms. Its transparent front panel allows for identification, while built-in LEDs convey the alarm status. Furthermore, the staff badge can double as a visitor badge with special capabilities. An escort function can be configured to suppress wandering alarms.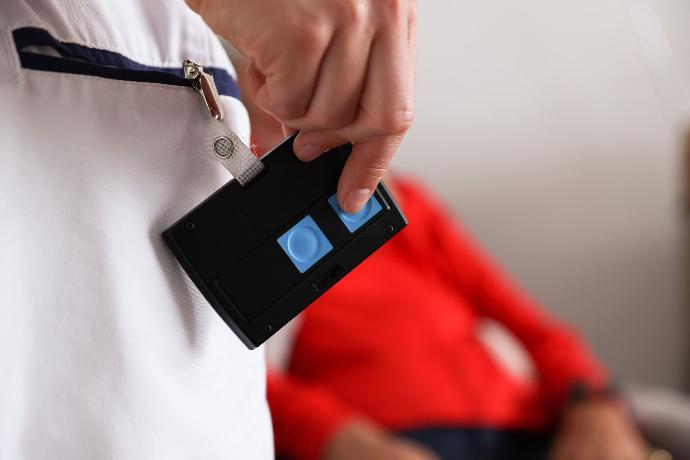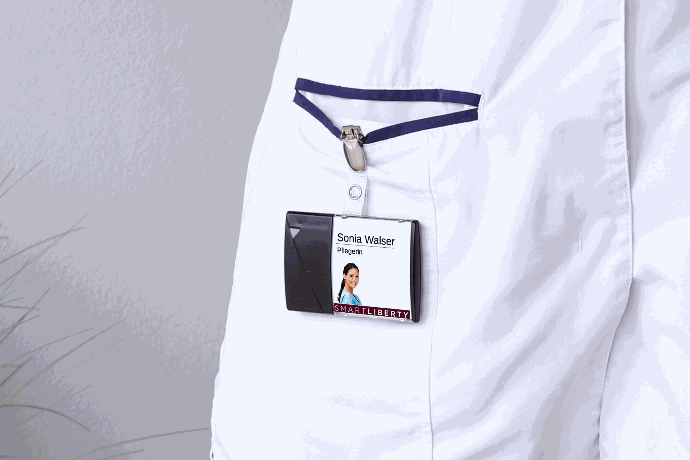 Sensor Board
---
The universally applicable sensor board simplifies the replacement of previously wired components. It is deployed wherever a third-party system, such as motion detectors, floor mats, or bed sensors, needs to generate alarms.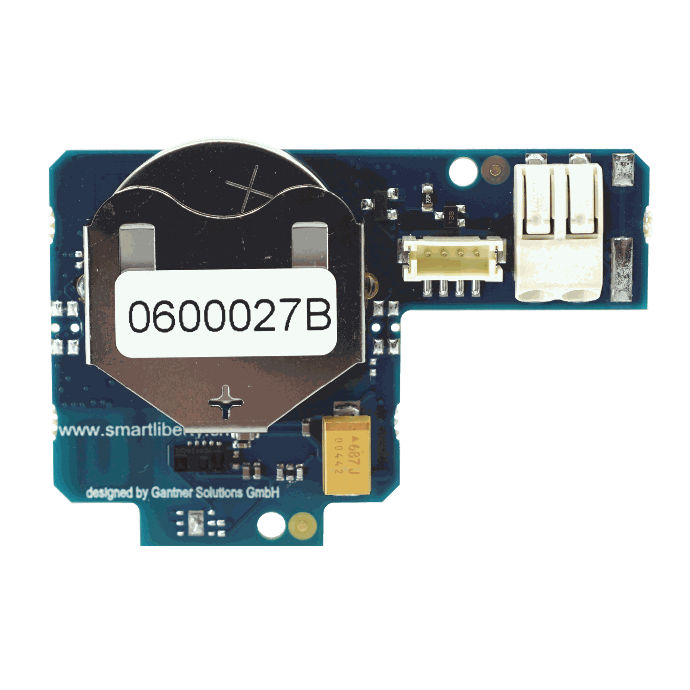 Sensor Module
---
The sensor module offers versatility and can serve various purposes, from a pull cord module to an additional alarm button, and can connect with third-party sensors.
This adaptability ensures that individuals with impairments can trigger alarms using various methods, including blowpipes, eye-controlled sensors, switches activated by head movements, or other triggering mechanisms.
The sensor module acts as the interface to the call system and can also function as a door opening sensor, replacing magnetic contacts and enhancing the security of emergency exit doors.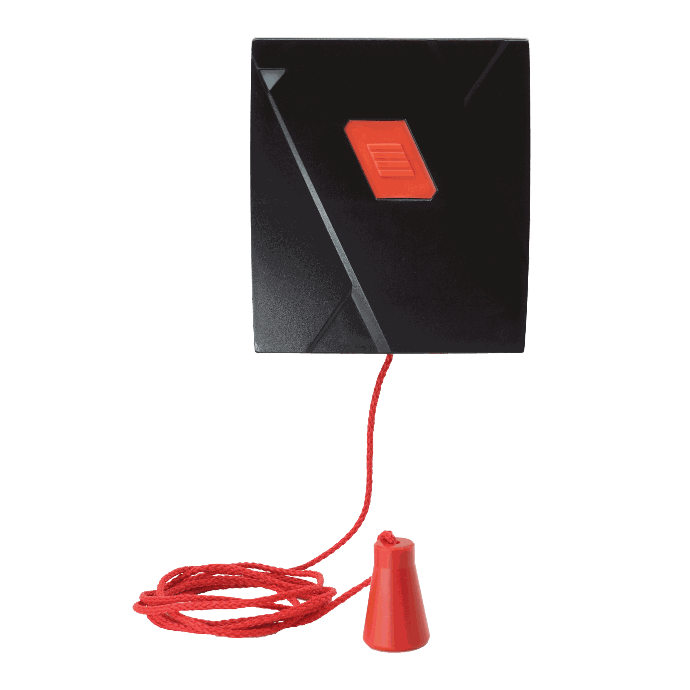 Smartphones
---
Smartphones are the interface to our motica apps. Alarm handling, telephony and integrated tools facilitate the daily routine for your staff. No dedicated devices are needed to use our apps. We use consumer smartphones of the Samsung Enterprise Edition. To account for potential mishaps, such as contact with water or accidental drops, we recommend using waterproof models with an IP68 rating and military-standard compliance (MIL-STD-810H) for added durability and reliability.